St. Joe's Going the Distance Campaign Study
Community
Our team has worked extensively with organizers of the Paris to Ancaster Bike Race (P2A) and Around the Bay Road Race (ATB) to promote their events and share its unique story with the community. This year, P2A and ATB joined forces to help raise funds for St. Joseph's Hospital. We have been directly involved in every aspect of the race's marketing and media.
This includes securing funding and sponsorship, grant writing, creating new community partnerships and opportunities for cross-promotion, attracting free press and buying media in radio, print, and TV, overseeing all social media and online promo, producing original video content, and building a strong and loyal audience for all the race's promotions at every lev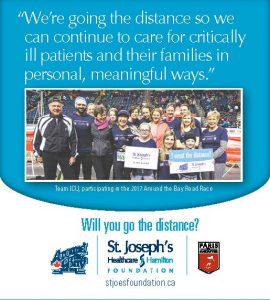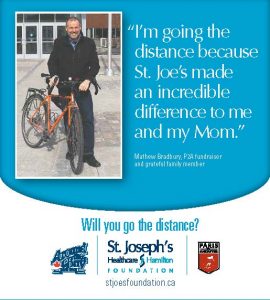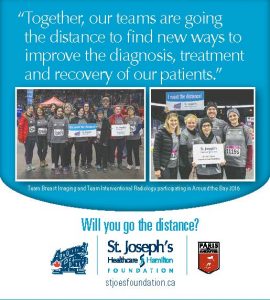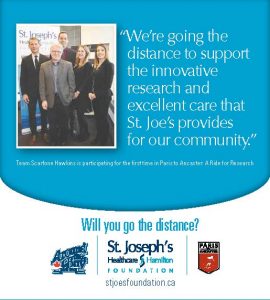 Whether it's delivering exceptional care today, or conducting research that changes lives tomorrow, St. Joseph's Healthcare Hamilton goes the distance for the health of our community. See details on our 2017 campaign below:
2017 CAMPAIGN
Produced 7 original videos for online & social media, ran social media, did web updates.
Promoted ATB and Paris to Ancaster on CHCH (radio spots on the morning live program), Hamilton Community News (full page advertisements), Bell Media (radio spots on K-Lite and on-air interview on TSN), Corus Entertainment (radio spots secured on Y108, FreshFM, CHML, PSA's, and through Cours' email newsletter, website, and social media).
Greening Media Metrics
Video Metrics for 2017
Video views: 30,599; 13,846 organic
Video reach: 69,392; 39,929 organic
Video likes: 663; 560 organic
Impressions (circulation): 108,730 weekly